Regular price
Sale price
Rs. 349.00
Unit price
per
Sale
Sold out
Scent & Colour
Unscented, translucent, milky, thick & viscous liquid
Format
Looks like a thick gel.
After-effect
Fresh, revitalised, hydrated
Makes Skin Look
Smooth & Glowing, cleansed, glass-like skin
Benefits
Soap-Free, Daily Use, Non-Drying, Deep Cleanses
Features
Mild, Daily Use Face Wash
A Gentle Face Wash with 10% Glycolic Acid (AHA) (100 ml) A gentle, daily use face wash designed for regular use | Sulphate Free. Non Drying, Soap Free Cleanser
This face wash is (i) Fragrance-free (ii) Silicones-free (iii) Sulfates-free (iv) Parabens-free (v) Essential Oils-free and (vi) Dyes-free (vii) Mild Cleanser. Also, it is non-comedogenic, anti-bacterial, and hypoallergenic. Formulated at pH
Oily Skin: 5/5
Dry Skin: 3/5
Combination Skin: 5/5
Normal Skin: 5/5
Acne-Prone Skin: 5/5
Water
Sodium Laurylglucosides Hydroxypropylsulfonate
Glycolic Acid
Cocamidopropyl Betaine
Aloe Vera Leaf Extract
Sodium Lauroyl Methyl Isethionate
Glycerine
Cetyl Alcohol
Sodium Lactate & Sodium Gluconate
Hyaluronic Acid
Benzyl Alcohol (and) Ethylhexylglycerin (and) Tocopherol
Natural Betaine
Xanthan Gum, Sodium PCA
Xylitylglucoside (and) Anhydroxylitol (and) Xylitol
Saccharide Isomerate
Guar Hydroxypropyltrimonium Chloride
Sodium Gluconate
Polyquaternium-10
Q1. What sets CosIQ apart from other skincare brands?
A: We pride ourselves on our commitment to science-backed skincare. Our products are formulated using the latest scientific research and ingredients to ensure effective results. We prioritize transparency, quality, and safety in every product we offer.
Q2. Are your products suitable for all skin types?
A: Yes, we offer a range of products designed to cater to various skin types, including sensitive, oily, dry, and combination skin. We understand that everyone's skin is unique, and our product line reflects this diversity.
Q3.How can I determine which products are right for my skin?
A: We recommend checking out our skincare by concern section on the website to understand the right products for your skin.
Q4: Do your products contain any harmful ingredients or chemicals?
A: No, we avoid harmful ingredients such as parabens, sulfates, phthalates, and artificial fragrances in our formulations. Our products are carefully crafted to be safe for your skin and the environment.
Q5: How long should I use the products before seeing results?
A: Results can vary from person to person, but with consistent use, many customers report noticeable improvements in their skin within a few weeks. Keep in mind that skincare is a long-term commitment, and patience is key to achieving and maintaining healthy skin.
Customise Your Bundle and
get10%

off on orders more than Rs. 2000!
View full details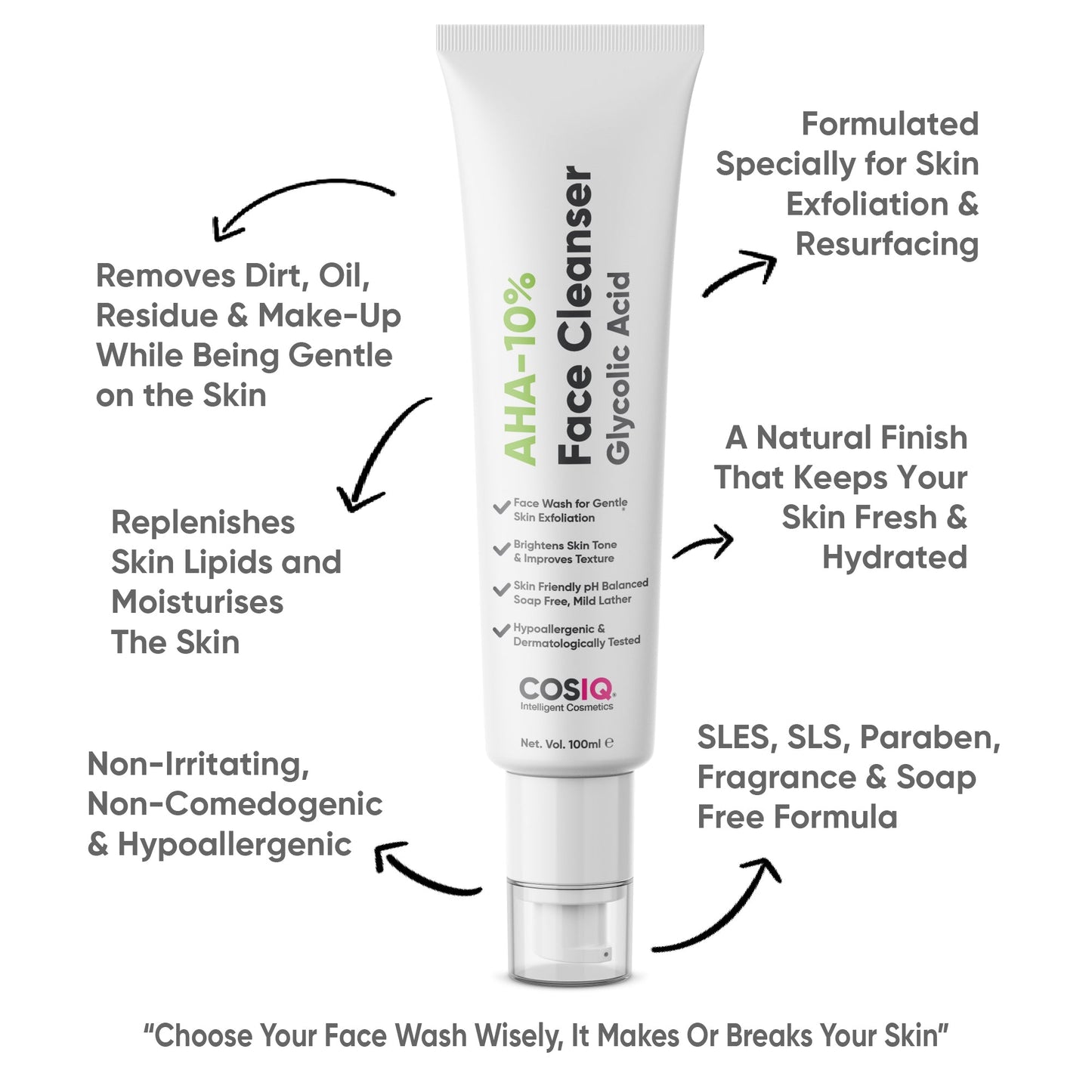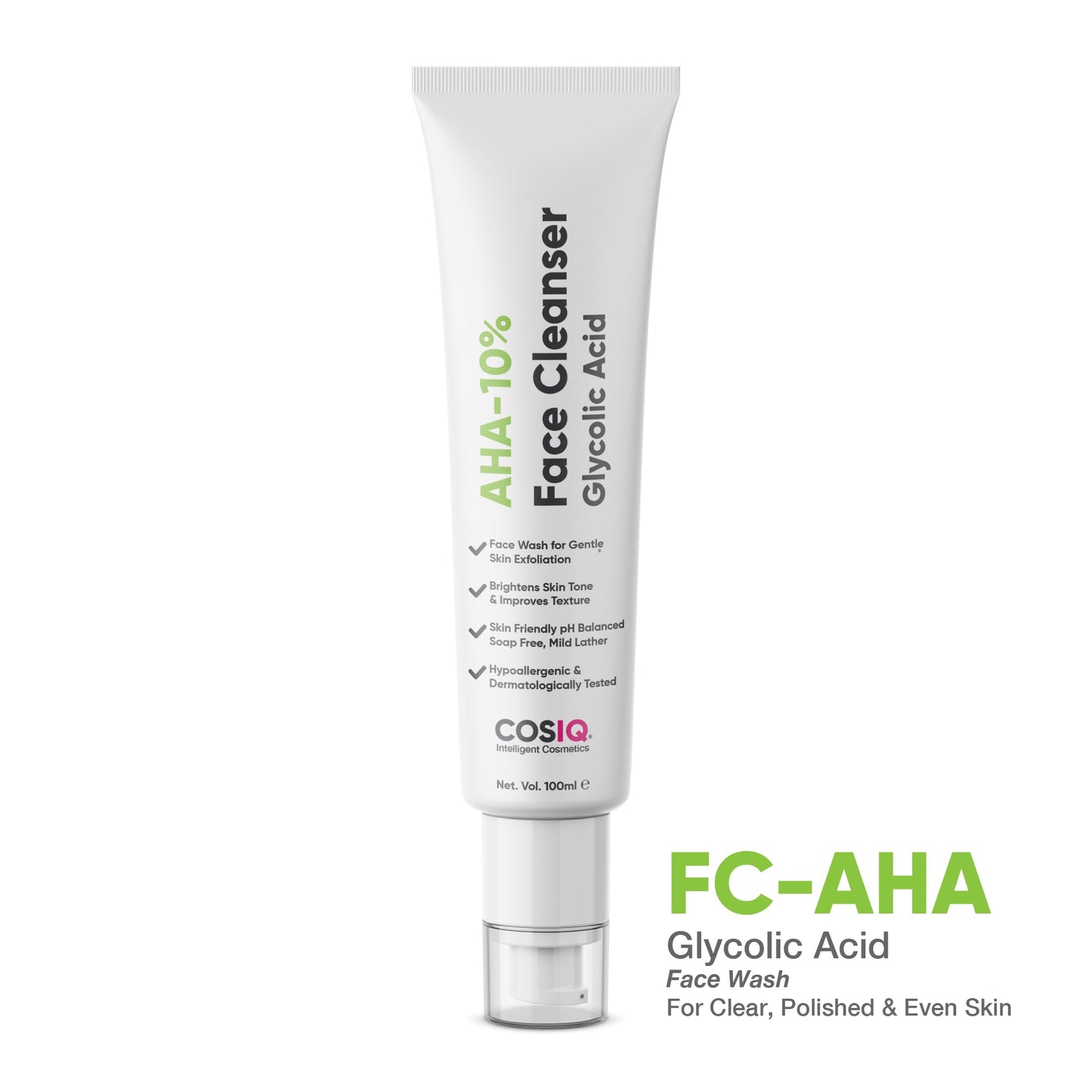 FAQs
Q1. What is glycolic acid cleanser good for?
A: A glycolic acid face cleanser (AHA) has multiple benefits for the skin. It helps to increase cell turnover, exfoliates the skin, and increases collagen production, It also helps to improve skin texture, and skin tone, clear pores, and reduces sun damage, and dark spots. Helps prevent acne and keeps skin hydrated.
Q2. Should I use a glycolic acid cleanser day or night?
A: We recommend using the glycolic acid cleanser in your nighttime routine when your skin will not get exposed to the sun. If you do apply it in the morning, top it up with a broad-based spectrum sunscreen with SPF 30.
Q3. How long does glycolic acid lighten skin?
A: There is no specific timeline regarding the time taken by a glycolic acid cleanser to lighten the skin. However, with regular and consistent usage, there is a significant improvement in skin tone, lightening of dark spots, and brightening of the skin.
Q4: Does glycolic acid face cleanser remove sun tan?
A:Yes, The glycolic acid cleanser by CosIQ has properties that boost collagen production, reduce dark spots caused by skin damage and brighten skin tone.
Q5: Can I use aloe vera gel after glycolic acid cleanser?
A: The COSIQ glycolic acid face cleanser is a mild cleanser that can be used every day. You may follow it with aloe vera gel or your regular skin care products.