Regular price
Sale price
Rs. 349.00
Unit price
per
Sale
Sold out
Scent & Colour
Unscented, translucent, milky, thick & viscous liquid
Format
Looks like a thick gel.
After-effect
Fresh, revitalised, hydrated
Makes Skin Look
Smooth & Glowing, cleansed, glass-like skin
Benefits
Soap-Free, Daily Use, Non-Drying, Deep Cleanses
Features
Mild, Daily Use Face Wash
A Gentle Face Wash with 10% Glycolic Acid (AHA) (100 ml) A gentle, daily use face wash designed for regular use | Sulphate Free. Non Drying, Soap Free Cleanser
This face wash is (i) Fragrance-free (ii) Silicones-free (iii) Sulfates-free (iv) Parabens-free (v) Essential Oils-free and (vi) Dyes-free (vii) Mild Cleanser. Also, it is non-comedogenic, anti-bacterial, and hypoallergenic. Formulated at pH
Oily Skin: 5/5
Dry Skin: 3/5
Combination Skin: 5/5
Normal Skin: 5/5
Acne-Prone Skin: 5/5
Water
Sodium Laurylglucosides Hydroxypropylsulfonate
Glycolic Acid
Cocamidopropyl Betaine
Aloe Vera Leaf Extract
Sodium Lauroyl Methyl Isethionate
Glycerine
Cetyl Alcohol
Sodium Lactate & Sodium Gluconate
Hyaluronic Acid
Benzyl Alcohol (and) Ethylhexylglycerin (and) Tocopherol
Natural Betaine
Xanthan Gum, Sodium PCA
Xylitylglucoside (and) Anhydroxylitol (and) Xylitol
Saccharide Isomerate
Guar Hydroxypropyltrimonium Chloride
Sodium Gluconate
Polyquaternium-10
Q1. What sets CosIQ apart from other skincare brands?
A: We pride ourselves on our commitment to science-backed skincare. Our products are formulated using the latest scientific research and ingredients to ensure effective results. We prioritize transparency, quality, and safety in every product we offer.
Q2. Are your products suitable for all skin types?
A: Yes, we offer a range of products designed to cater to various skin types, including sensitive, oily, dry, and combination skin. We understand that everyone's skin is unique, and our product line reflects this diversity.
Q3.How can I determine which products are right for my skin?
A: We recommend checking out our skincare by concern section on the website to understand the right products for your skin.
Q4: Do your products contain any harmful ingredients or chemicals?
A: No, we avoid harmful ingredients such as parabens, sulfates, phthalates, and artificial fragrances in our formulations. Our products are carefully crafted to be safe for your skin and the environment.
Q5: How long should I use the products before seeing results?
A: Results can vary from person to person, but with consistent use, many customers report noticeable improvements in their skin within a few weeks. Keep in mind that skincare is a long-term commitment, and patience is key to achieving and maintaining healthy skin.
Customise Your Bundle and
get10%

off on orders more than Rs. 2000!
View full details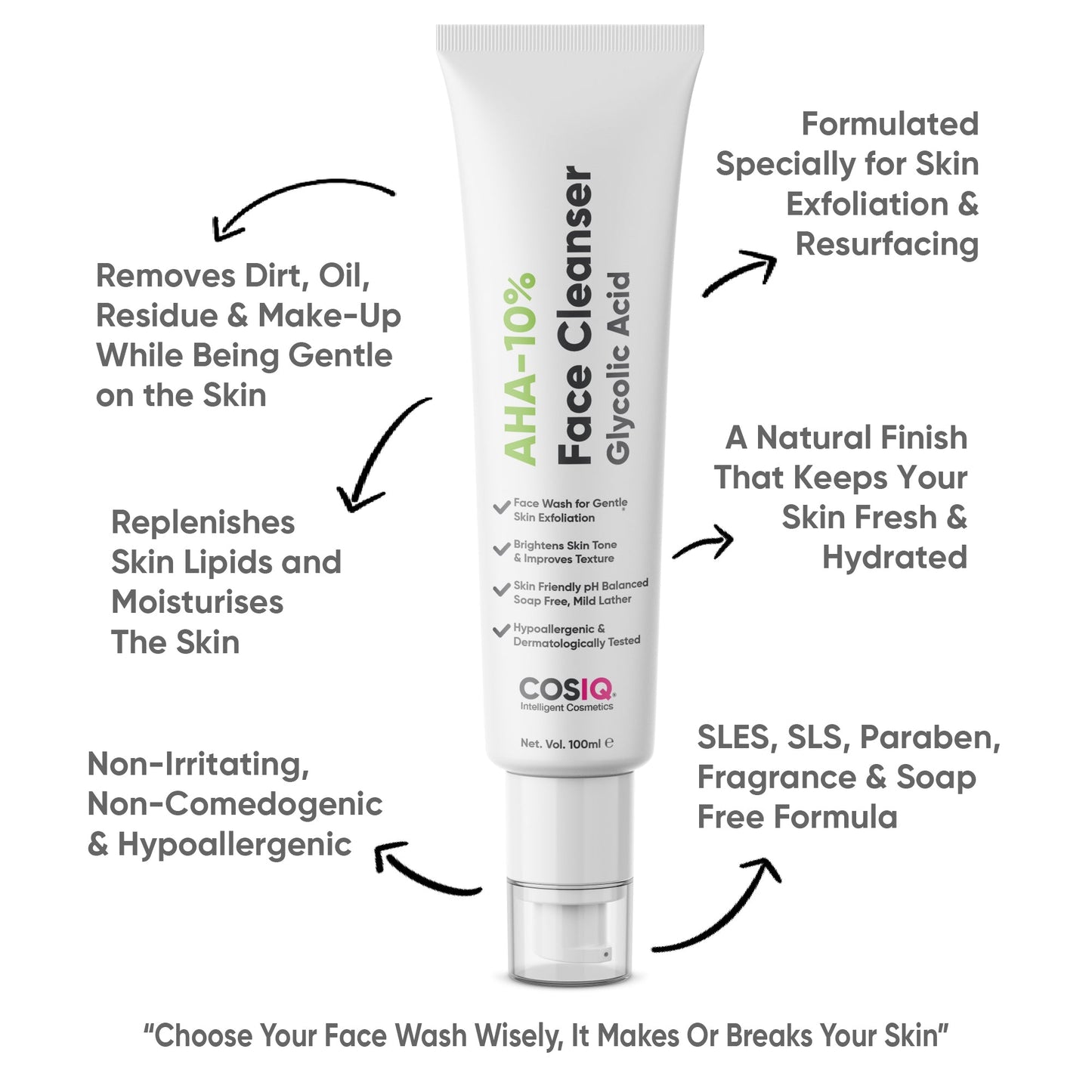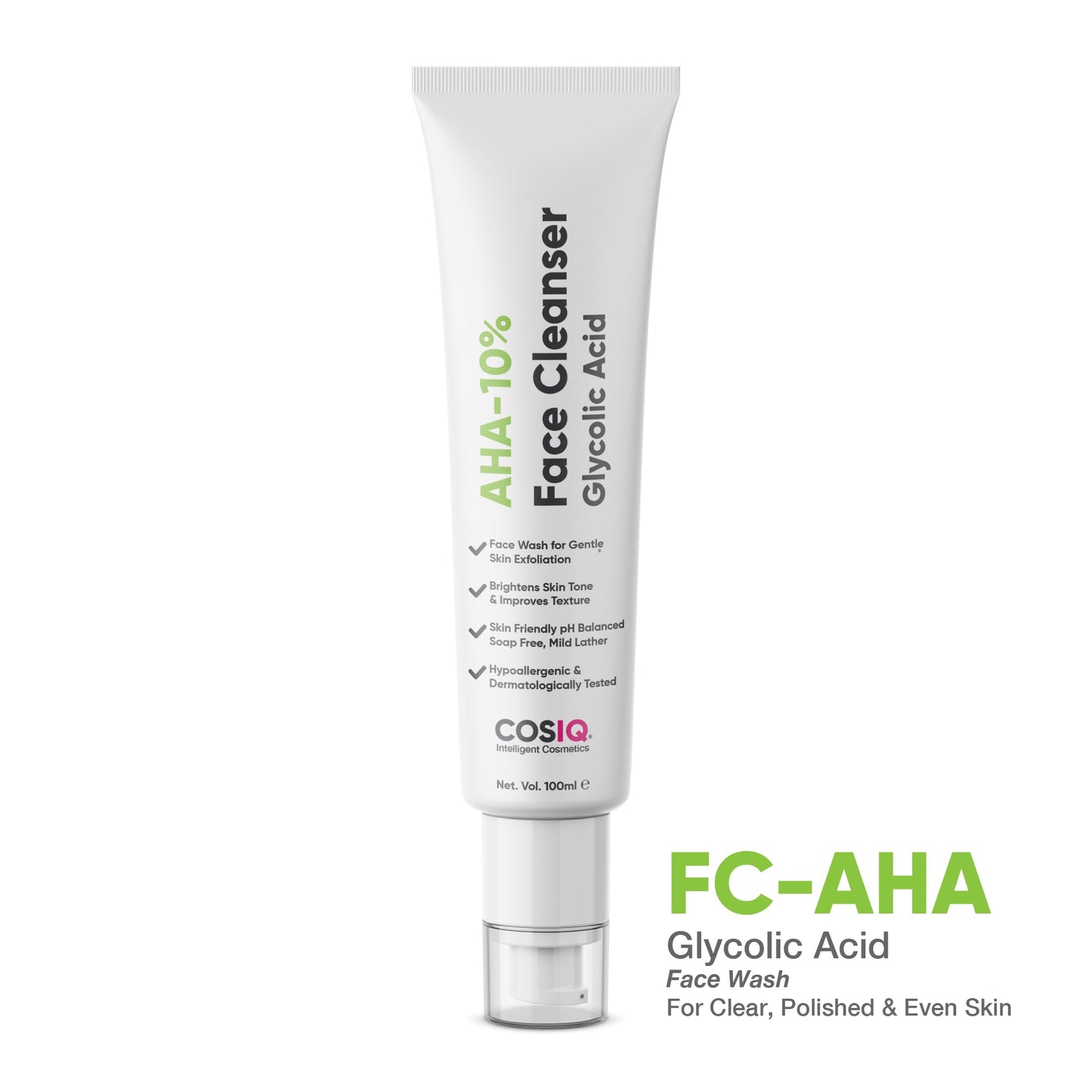 About Glycolic Acid Cleanser
CosIQ's Glycolic acid cleanser is an AHA face wash that can be used daily to achieve your skincare goals. This AHA cleanser contains Glycolic acid that exfoliates the top layer of the skin and eliminates the dead skin cells. This glycolic acid-based cleanser is all you need to have a bright complexion and ensure unclogged pores to prevent your skin from forming acne, blackheads, whiteheads, etc. It has been voted as the best face cleanser online throughout India.
Ingredient in AHA Cleanser
Here's a list of hero ingredients that make up this dynamic glycolic acid cleanser:
Glycolic Acid: The star ingredient in this AHA face wash is glycolic acid. Its 10% concentration ensures its effectiveness on your skin concerns like hyperpigmentation, dark spots, acne, dull skin, and removal of debris and other impurities from the pores.
Hyaluronic Acid: Another key ingredient in this glycolic acid face wash is Hyaluronic Acid. It hydrates the skin, retains moisture, and helps maintain the skin barrier. It also makes skin look plump and hydrated.
Aloe Vera Leaf Extract: With its soothing and hydrating properties, Aloe Vera leaf extract in this glycolic acid cleanser complements its effectiveness and protects against UV damage. Use this sunscreen serum online from CosIQ, India's Only Hybrid, Serum-Based Sunscreen that gives broad protection against UV rays and also corrects the damage caused by the sun.
5 Advantages of Using Glycolic Acid Cleanser
Here are 7 advantages of glycolic acid face wash:
Exfoliates the skin: It is known to exfoliate the dead skin cells by loosening them and then completely removing them off from the skin uncovering healthy and rejuvenated skin.
Boosts collagen: The main structural protein in maintaining skin elasticity and firmness is collagen whose production declines over time, this AHA cleanser boosts its growth and gives out a youthful glow.
Fights signs of aging: By boosting collagen synthesis and increasing the level of hyaluronic acid in the skin it reduces the appearance of fine lines and wrinkles.
Evens out the skin tone: This face cleanser helps smooth out the skin texture and evens out the skin tone by reducing the appearance of dark patches.
Speeds up the cell turnover: Not only does this AHA face wash India help in removing the dead skin layer, but it also accelerates the new skin cell turnover.
Reverses Sun Damage: It is extremely effective in correcting damage caused by the sun. It also makes skin susceptible to damage because of the removal of the top layer, so it's important to always apply sunscreen after using this cleanser in the morning.
Acne Control: It cleans out the pores and prevents any further buildup in them. This ultimately leads to zero formation of acne, blackheads, or whiteheads.
How to Use AHA Face Wash for the Face Properly
Here's how you can use AHA cleanser properly:
Use this face wash first thing in the morning and in your skincare ritual.
Follow up with a moisturizer and grab your hands on the best face moisturizer online at CosIQ. You'll be stunned to see soft and supple skin in just a few days of usage.
Focus more on the T-zone and other areas prone to excess oils like the sides of the nose and chin.
Layer it up with a sunscreen. It is a very important step in an AM skincare routine.
Before Buying Glycolic Acid Cleanser Online, Here are Some Things to Consider
From buying a cleanser to a face exfoliator online or any other skin care product you must always consider the following things:
Know your skin type: Although glycolic acid is an essential ingredient that works wonders on skin if you have dry or sensitive skin, it demands to be used wisely.
Check the Concentration: Start with a lower concentration if you are new to using this skincare product.
Review the ingredient list: Go through the ingredient list of glycolic acid face wash and look for the complementing ingredients that will promote and support its effectiveness while addressing other skin concerns as well.
Reviews and Ratings: Take a look at the review and rating section of glycolic acid face wash before buying. It will give you clarity.
Online presence: Check with the reputation and online presence of the brand before you check out. You can do so by simply visiting their social media handles, probably the best way to gather all the information.
Why Choose CosIQ
CosIQ is India's no. 1 Shark-tank-approved skincare brand that has helped thousands of faces suffering from chronic skin issues achieve exceptional transformation. Beyond crafting intelligent skincare like face cleanser, or face serum online at CosIQ, we also offer a free consultation with our skincare expert to assist you in your journey to a healthy skin. All the products at CosIQ are scientifically backed and have delivered tremendous results. We also aim to cater to every individual which is why we also have come up with particular products for every skin type. It makes your journey all the more easier.
FAQs
Q1. What is glycolic acid cleanser good for?
A: A glycolic acid face cleanser (AHA) has multiple benefits for the skin. It helps to increase cell turnover, exfoliates the skin, and increases collagen production, It also helps to improve skin texture, and skin tone, clear pores, and reduces sun damage, and dark spots. Helps prevent acne and keeps skin hydrated.
Q2. Should I use a glycolic acid cleanser day or night?
A: We recommend using the glycolic acid cleanser in your nighttime routine when your skin will not get exposed to the sun. If you do apply it in the morning, top it up with a broad-based spectrum sunscreen with SPF 30.
Q3. How long does glycolic acid lighten skin?
A: There is no specific timeline regarding the time taken by a glycolic acid cleanser to lighten the skin. However, with regular and consistent usage, there is a significant improvement in skin tone, lightening of dark spots, and brightening of the skin.
Q4: Does glycolic acid face cleanser remove sun tan?
A:Yes, The glycolic acid cleanser by CosIQ has properties that boost collagen production, reduce dark spots caused by skin damage and brighten skin tone.
Q5: Can I use aloe vera gel after glycolic acid cleanser?
A: The COSIQ glycolic acid face cleanser is a mild cleanser that can be used every day. You may follow it with aloe vera gel or your regular skin care products.