Regular price
Sale price
Rs. 599.00
Unit price
per
Sale
Sold out
Scent & Colour
White liquid, unscented
Format
Runny, milky consistency, absorbs quickly
After-effect
Moist, Hydrated and Non-Greasy
Makes Skin Look
Matte-Dewy - Like you are wearing nothing!
Benefits
A double encapsulated, hybrid formula with both chemical and physical filters that protect you against the full spectrum of UVA UVB and IR rays while being invisible on the skin.
Features
Zero White Cast, Non-Comedogenic Formula \ Full Spectrum UVA UVB & IR Protection \ SPF 30, PA++++ Rating \ Double Encapsulated Filters & Non-Penetrating Actives \ Non-Irritating and Make-up Safe
SPF-30 Daily Use Sunscreen (30 ml) Invisible shield against Sun Exposure
Oily Skin: 5/5
Dry Skin: 5/5
Combination Skin: 5/5
Normal Skin: 5/5
Acne-Prone Skin: 5/5
Aqua
Aloe Vera Leaf Extract
C12-15 Alkyl Benzoate
Glycerine
Water
Ethylhexyl Methoxycin namate
Butyl Methoxydibenzoyl methane
Octocrylene
Phospholipids
1,3 Butylene glycol
Propanediol
Zinc Oxide
Sodium Hyaluronate
Benzyl Alcohol
Ethylhexylglycerin
Tocopherol
Polysorbate 20
Bamboo water
Ammonium Acryloyldim ethyltaurate/VP Copolymer
Sodium Gluconate
Vitamin E
Q1. What sets CosIQ apart from other skincare brands?
A: We pride ourselves on our commitment to science-backed skincare. Our products are formulated using the latest scientific research and ingredients to ensure effective results. We prioritize transparency, quality, and safety in every product we offer.
Q2. Are your products suitable for all skin types?
A: Yes, we offer a range of products designed to cater to various skin types, including sensitive, oily, dry, and combination skin. We understand that everyone's skin is unique, and our product line reflects this diversity.
Q3.How can I determine which products are right for my skin?
A: We recommend checking out our skincare by concern section on the website to understand the right products for your skin.
Q4: Do your products contain any harmful ingredients or chemicals?
A: No, we avoid harmful ingredients such as parabens, sulfates, phthalates, and artificial fragrances in our formulations. Our products are carefully crafted to be safe for your skin and the environment.
Q5: How long should I use the products before seeing results?
A: Results can vary from person to person, but with consistent use, many customers report noticeable improvements in their skin within a few weeks. Keep in mind that skincare is a long-term commitment, and patience is key to achieving and maintaining healthy skin.
Customise Your Bundle and
get10%

off on orders more than Rs. 2000!
View full details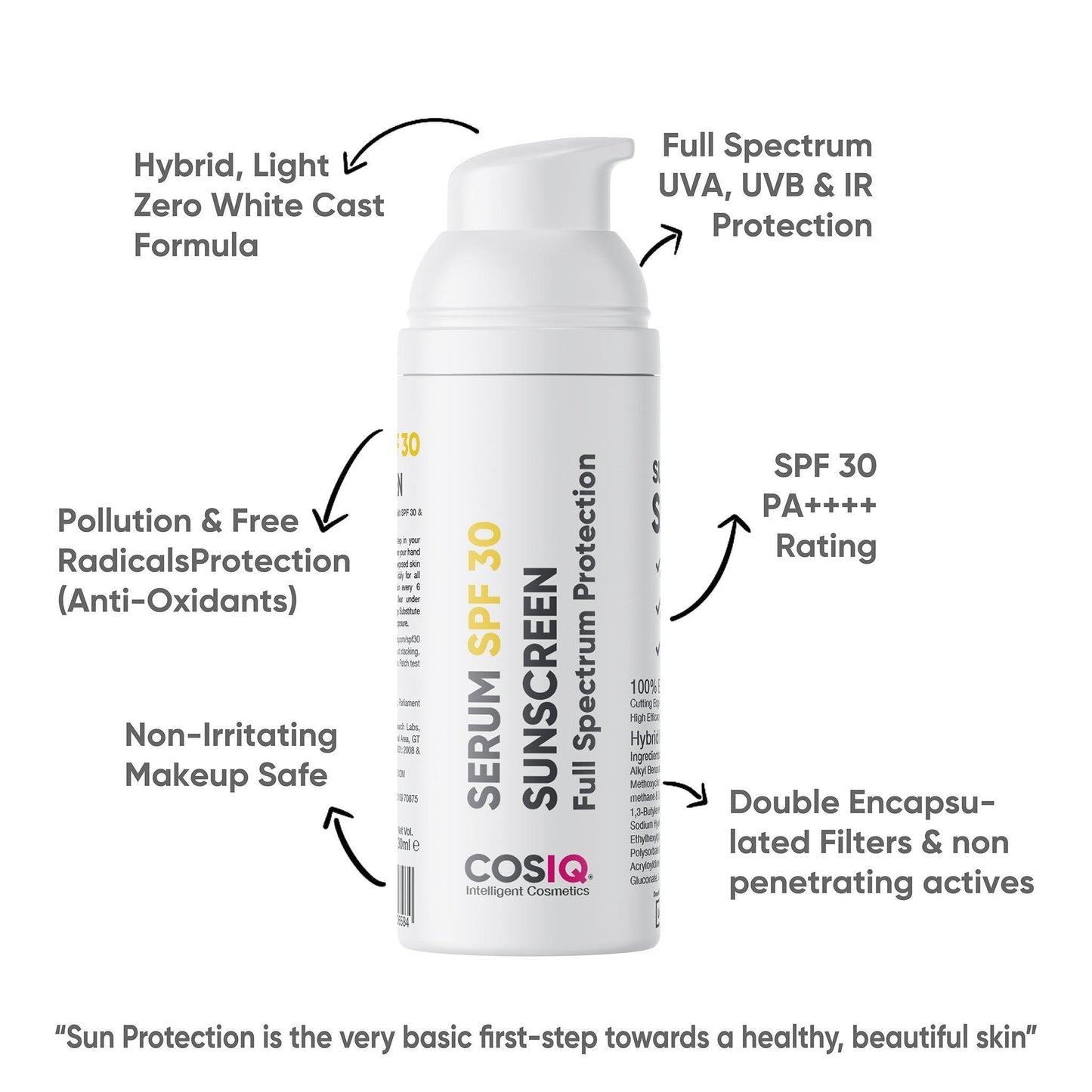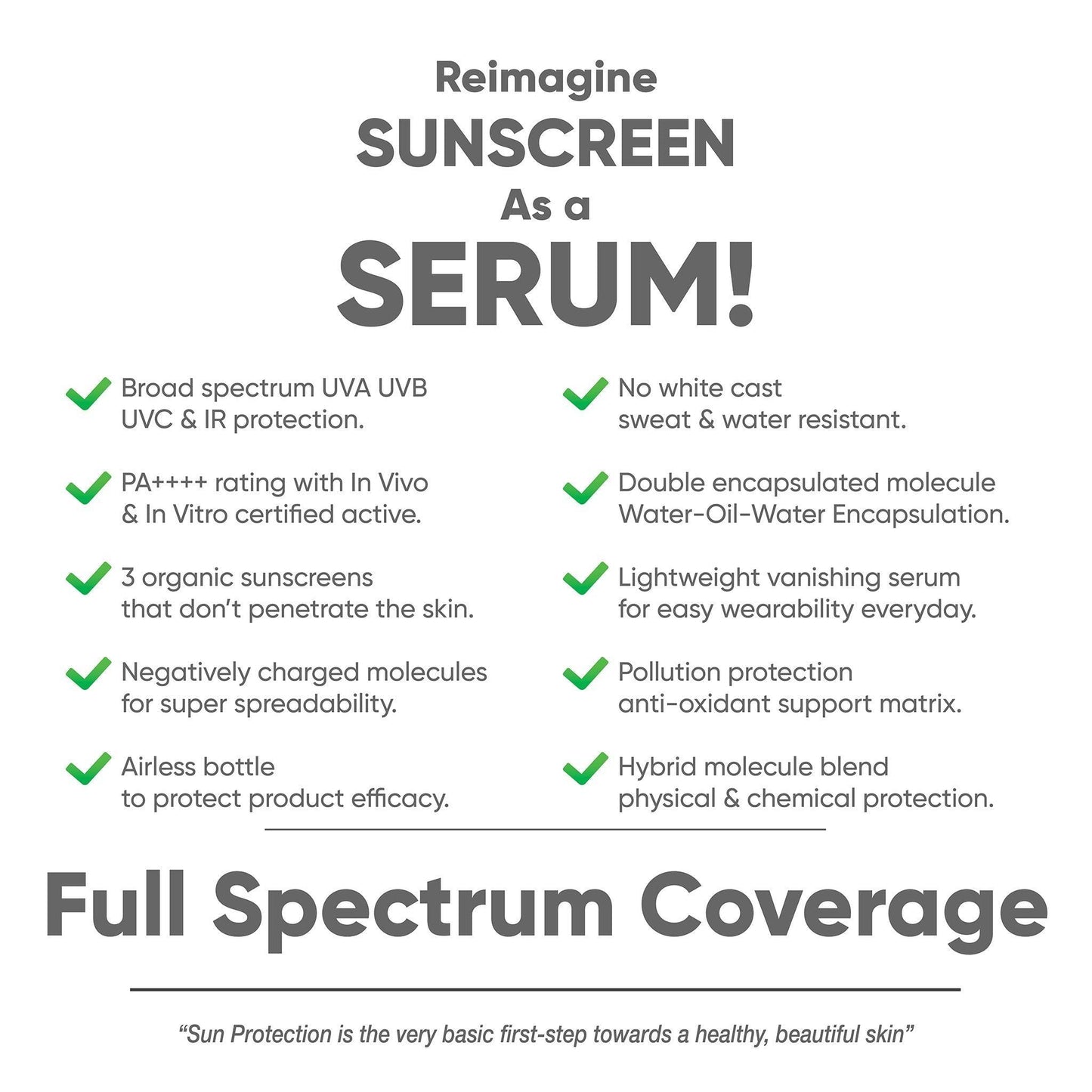 FAQs
Q1. Is SPF 30 enough for Indian skin?
A: Yes, A minimum protection of SPF 30 is required for Indian skin considering the hot weather conditions of the country.
Q2. Is it better to use SPF 30 or 50?
A: There is not much difference between an SPF 30 sunscreen and an SPF 50 sunscreen. While a sunscreen serum with spf 30 protects your skin from 97% of the sun's rays and allows 3% of the rays to hit your skin. An SPF 50 sunscreen protects your skin from 98% of the sun's harmful rays thereby allowing 2%of the rays to reach your skin. Considering the time you are staying in the sun, you may reapply your sunscreen to offer your skin protection from the harmful UVA/UVB rays.
Q3. Can I use SPF 30 every day?
A: Yes, it is recommended to use SPF 30 sunscreen every day, even if you stay indoors. To protect your skin from the harsh rays of the sun.
Q4: Can I use serum SPF 30 with SPF at night?
A: We recommend applying the COSIQ spf 30 sunscreen for oily skin in your daytime routine irrespective of whether you stay indoors or step out.
Q5: Is it OK to leave sunscreen serum spf 30 on overnight?
A: We recommend applying the serum spf 30 in the day time and cleansing your face in the night before sleeping of all its make-up.