Regular price
Sale price
Rs. 699.00
Unit price
per
Sale
Sold out
Scent & Colour
White liquid, unscented
Texture
Runny, milky consistency, absorbs quickly
After-effect
Moist, Hydrated and Non-Greasy
Makes Skin Look
Matte-Dewy - Like you are wearing nothing!
Benefits
A double encapsulated, hybrid formula with both chemical and physical filters that protect you against the full spectrum of UVA UVB and IR rays while being invisible on the skin.
Features
Zero White Cast, Non-Comedogenic Formula ;Full Spectrum UVA UVB & IR Protection SPF 50, PA++++ Rating ;Double Encapsulated Filters & Non-Penetrating Actives ; Non-Irritating and Make-up Safe ;
Outdoor Sun Protection in an ultra-light serum (30 ml) Because sun-protection is the very basic, first step towards self-care
Oily Skin: 5/5
Dry Skin: 5/5
Combination Skin: 5/5
Normal Skin: 5/5
Acne-Prone Skin: 5/5
Aqua
Aloe Vera Leaf Extract
C12-15 Alkyl Benzoate
Glycerine
Water
Ethylhexyl Methoxycin namate
Butyl Methoxydibenzoyl methane
Octocrylene
Phospholipids
1,3 Butylene glycol
Propanediol
Zinc Oxide
Sodium Hyaluronate
Benzyl Alcohol
Ethylhexylglycerin
Tocopherol
Polysorbate 20
Bamboo water
Ammonium Acryloyldim ethyltaurate/VP Copolymer
Sodium Gluconate
Vitamin E
Q1. What sets CosIQ apart from other skincare brands?
A: We pride ourselves on our commitment to science-backed skincare. Our products are formulated using the latest scientific research and ingredients to ensure effective results. We prioritize transparency, quality, and safety in every product we offer.
Q2. Are your products suitable for all skin types?
A: Yes, we offer a range of products designed to cater to various skin types, including sensitive, oily, dry, and combination skin. We understand that everyone's skin is unique, and our product line reflects this diversity.
Q3.How can I determine which products are right for my skin?
A: We recommend checking out our skincare by concern section on the website to understand the right products for your skin.
Q4: Do your products contain any harmful ingredients or chemicals?
A: No, we avoid harmful ingredients such as parabens, sulfates, phthalates, and artificial fragrances in our formulations. Our products are carefully crafted to be safe for your skin and the environment.
Q5: How long should I use the products before seeing results?
A: Results can vary from person to person, but with consistent use, many customers report noticeable improvements in their skin within a few weeks. Keep in mind that skincare is a long-term commitment, and patience is key to achieving and maintaining healthy skin.
Customise Your Bundle and
get10%

off on orders more than Rs. 2000!
View full details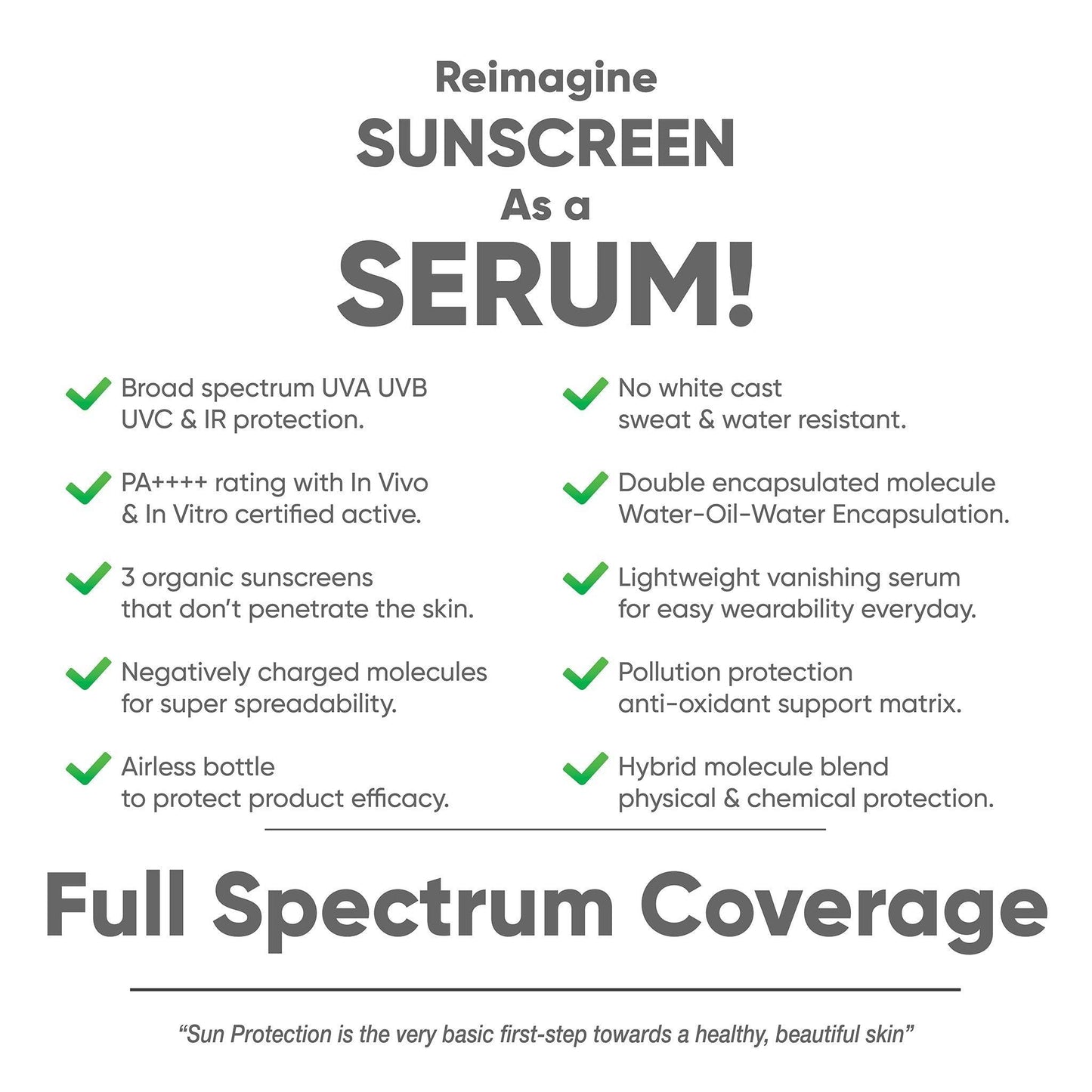 About SPF 50 Sunscreen
Sunscreens are an indispensable part of our skincare routine and its importance just cannot be described even in a thousand words! So many experiments are carried out just to emphasize how crucial sunscreen is to your skin, and how just an ideal SPF is the only thing you need to make your skin look youthful, radiant and gleaming.
This CosIQ serum sunscreen SPF 50 protects your skin against the full spectrum of UVA, UVB, & IR rays. It stays in the upper layer of your skin repelling any damage caused by the sun.
Check out this sunscreen serum online and order yours right away.
5 Ingredients in CosIQ serum sunscreen
The Serum sunscreen SPF 50 is loaded with holy grail ingredients that work together to deliver amazing results to your skin while acting like a strong barrier against harmful sun rays. Here are the hero ingredients in this SPF serum that you should know about:
Ethylhexyl Methoxycinnamate: This is a powerful active ingredient and a UVB filter that is primarily responsible for absorbing the UVB radiation and converting it into less heat to prevent damage like sunburn etc.
Butyl Methoxydibenzoyl methane: This active ingredient is responsible for absorbing the UVA rays from the sun that are responsible for causing and developing the signs of ageing like the appearance of fine lines and wrinkles on the skin.
Octocrylene: This common active ingredient is used to enhance the full broad spectrum of the sunscreen and also helps in the absorption of UVB rays and filtering it out.
Zinc Oxide: This is a physical barrier that sits on the skin and repels UVA and UVB rays from penetrating the skin. It protects the skin against all kinds of UV radiation.
Vitamin E: Vitamin E is known for its antioxidant and anti-inflammatory properties that act as a soothing agent on the face when the skin is exposed to sun and develops redness, irritation and other skin conditions.
Along with sunscreen serum, you must incorporate a moisturizer that will help your skin maintain a good barrier and contribute to the effectiveness of the other products. Check out these face moisturizers online at CosIQ to enhance your skincare goals.
Reasons to use CosIQ serum sunscreen spf 50
An ideal skincare regimen includes steps from cleanser to sunscreen. You can go through the magical range of face cleansers online here at CosIQ that will make your skincare kit and routine look more authentic than ever. Here are some of the basic and main reasons to use CosIQ serum sunscreen SPF 50:
UV radiation is harmful to the skin and poses the threat of skin cancer.
Exposure to the sun causes sunburn and darker skin tone, this sunscreen corrects the skin tone and evens it out.
UV rays cause the skin to develop premature signs of ageing, and CosIQ serum sunscreen helps prevent it.
5 Benefits of using spf 50 sunscreen
It protects your skin from developing the risk of skin cancer.
It prevents your skin from premature ageing.
It reduces the production of melanin (skin-darkening pigment).
It also protects your skin from damage caused by the sun like sunburn etc.
It does not let UV radiation penetrate the skin and damage the skin inside.
How to use serum sunscreen spf 50
Here's how you should use serum sunscreen SPF 50:
Wash your face with a cleanser followed by a face wash.
Now apply a toner to your face to give it a more refreshing touch.
Apply any of the serums you have incorporated into your routine like Hyaluronic acid.
Now, layer it up with a moisturizer.
Finish the routine by applying a generous amount of sunscreen on your face and neck evenly.
Make sure to reapply every 4 to 6 hours.
The skincare ritual should also include weekly chemical exfoliation to accelerate cell turnover and good skin. Add this face exfoliator online from CosIQ that boosts collagen production enhances the elasticity of the skin and reduces the appearance of dark spots etc.
5 Things to consider before buying serum-based sunscreen
Whenever you intend to buy any face serums online or any other product, you should keep a few factors in mind to evaluate every brand and its products. It will help you distinguish and pick the right one for yourself.
Check with the SPF, it should be 30 or higher.
Look for a sunscreen that offers broad-spectrum protection against all types of UV radiation.
Opt for a sunscreen with Non-comedogenic formulations.
A good sunscreen never leaves a white-cast on the face, check for this parameter as well.
Go through the reviews before you checkout.
FAQs
Q1. Is SPF 50 good for sunscreen?
A: Yes, SPF 50 is considered a high level of sun protection against the UV rays and damage caused by them. If you frequently go out or are exposed to sunlight on a regular basis, SPF 50 sunscreen is highly recommended.
Q2. What is SPF 50 sunscreen serum used for?
A: SPF 50 sunscreen serum protects your skin against harmful UV rays and the damage they pose to your skin. It is a broad-spectrum sunscreen with UVA, UVB and IR ray filters that is non-comedogenic and stays in the upper layer of the skin to bounce back the rays and prevent UV damage.
Q3. Can I use SPF 50 sunscreen on my face?
A: Yes, you can use SPF 50 sunscreen on your face, in fact, it should be a daily practice and you must reapply it every 3 hours for better protection.
Q4. Is SPF 50 enough for Indian skin?
A: According to Dr Madhulika Mhatre, MD, Director, Skin Saga Centre for Dermatology, Mumbai, "For the Indian skin tone, any sunscreen with a minimum SPF of 30 is good enough." However the more the protection the better.
Q5. Can I use SPF 50 sunscreen every day?
A: Yes, if you go out on a daily basis, you must use an SPF 50 sunscreen to stay protected from UV rays and other skin issues triggered by them. Make sure to evenly apply it all over your face and neck and reapply every 3 hours. You should also make it a point to incorporate sunscreen even on a cloudy day as UV rays easily penetrate through cloud cover.
Q6. Can I use SPF 50 sunscreen serum overnight?
A: Ideally, sunscreen is a part of a morning skincare routine and is not required at night at all. It is meant to provide your skin with protection against the rays emitted by the sun, which is not a concern during the night. You can incorporate other skin serums, moisturisers and other specialised treatment creams such as eye cream, etc. at night to help your skin get repaired, recovered and replenished.