Regular price
Sale price
Rs. 999.00
Unit price
per
Sale
Sold out
Scent & Colour
Unscented. Pale yellow
After-effect
Warm, hydrated & soft
Makes Skin Look
Smooth & glowing
Benefits
Brightens skin with an inner glow | Reduces dark spots and pigmentation | Reduces inflammation | Prevents wrinkles and fine lines | Increases skin elasticity | Provides cell hydration
Features
CEF features a synergistic antioxidant combination of 20% pure vitamin C (Ethylated ascorbic acid), 1% vitamin E (alpha-tocopherol), and 0.5% ferulic acid to enhance protection against environmental damage caused by free radicals that can contribute to atmospheric aging.
A beginner-friendly Vit-C serum for that chok chok glow! | Water Free Formula | 30 ml
Oily Skin: 4/5
Dry Skin: 5/5
Combination Skin: 5/5
Normal Skin: 5/5
Acne-Prone Skin: 5/5
EAA" or 3-O-Ethyl Ascorbic Acid
Q1. What sets CosIQ apart from other skincare brands?
A: We pride ourselves on our commitment to science-backed skincare. Our products are formulated using the latest scientific research and ingredients to ensure effective results. We prioritize transparency, quality, and safety in every product we offer.
Q2. Are your products suitable for all skin types?
A: Yes, we offer a range of products designed to cater to various skin types, including sensitive, oily, dry, and combination skin. We understand that everyone's skin is unique, and our product line reflects this diversity.
Q3.How can I determine which products are right for my skin?
A: We recommend checking out our skincare by concern section on the website to understand the right products for your skin.
Q4: Do your products contain any harmful ingredients or chemicals?
A: No, we avoid harmful ingredients such as parabens, sulfates, phthalates, and artificial fragrances in our formulations. Our products are carefully crafted to be safe for your skin and the environment.
Q5: How long should I use the products before seeing results?
A: Results can vary from person to person, but with consistent use, many customers report noticeable improvements in their skin within a few weeks. Keep in mind that skincare is a long-term commitment, and patience is key to achieving and maintaining healthy skin.
Customise Your Bundle and
get10%

off on orders more than Rs. 2000!
View full details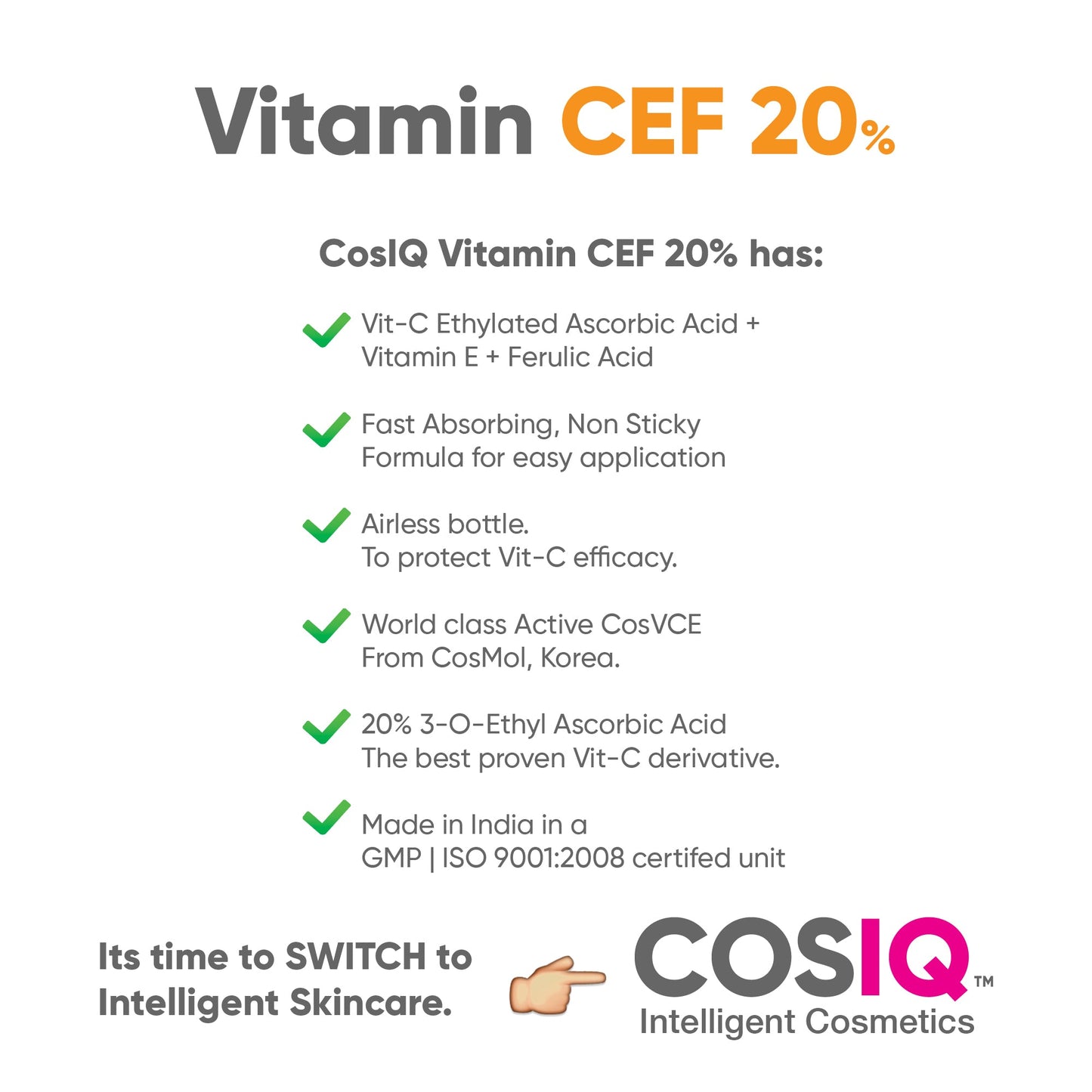 FAQs
Q1. Can I use vitamin C serum on my face every day?
A: Yes, the CosIQ vitamin C face serum is ideal to incorporate into your daily skincare routine.
Q2. Can I leave vitamin C serum on my face overnight?
A: Yes, you may include the vitamin C brightening serum in your everyday PM skincare routine. Begin by cleansing your face with a CosIQ facial cleanser. Pat dry and apply vitamin C brightening serum. Follow it up with a good moisturiser if you feel the need.
Q3. How many drops of vitamin C serum to use?
A: Our vitamin C serum for dry skin is a powerful composition and one to two pumps of the serum are enough to show results. Apply it on dry skin and spread the serum using circular motions.
Q4: Can I skip moisturizer after vitamin C serum?
A: We recommend applying moisturiser after applying the vitamin C face serum if you feel the need to dilute.
Q5: What to avoid with vitamin C serum?
A: Here are a few things you must avoid when applying vitamin C brightening serum ;
Avoid mixing the Vitamin C serum with Retinol or niacinamide. This is because both these products cancel each other's effect. In some cases, it may even lead to skin redness.
Skipping sunscreen after applying vitamin C brightening serum during the day. If you miss doing this the serum can oxidise and your skin tone may turn yellow, or orange.
Not storing it in a cool dark place. Exposure to sun or heat can oxidise the vitamin C Serum.
Q6: How do I know if my vitamin C serum is working?
A: You will know if your vitamin C serum for dry skin is working from the visible improvement in your skin tone, skin brightening, and the appearance of a soft glow. There will be a reduction in blemishes, dark spots, and signs of ageing.